My number can be easily introduced by acquiring an Individual Number Card, giving you an opportunity to transform your business!
My number system introduction support service
From January 2016, the social security and tax number system (hereinafter referred to as the My Number system) will come into effect. Prior to the enforcement, in October 2015, each local government is scheduled to start numbering and notification of My Number.
Even in private companies, it is necessary to improve the process and system support for acquiring, managing,
and reporting My Numbers of employees and their families.
Since specific personal information including My Number requires a stricter management system than personal information,
it is inevitable to comply with the My Number system.
However, the current situation shows how the awareness and understanding of the My Number system in companies is unfavorably small.
In order to support the My Number system support in companies,
we will provide the My Number system introduction support service.
Overview of the introduction of the My Number system
In order to support My Number, it is necessary to consider the support policy within the following business scope and handle it as a company-wide project.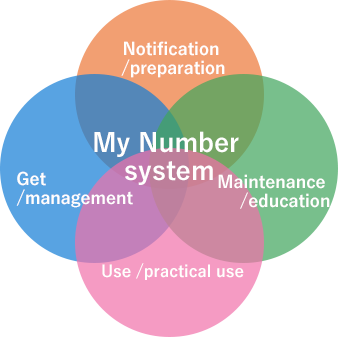 Notification / preparation
Announcement of my number
correspondence policy company-wide,
Prepare for response.
Main points to consider
Who is the initial responsibility department?
Who is the external consultant?
What is management understanding?
What is the actual status of the PJ operation?
What is the actual state of compliance?
Use / practical use
Collect employee's My Number
and manage it appropriately.
Main points to consider
What is the total number of employees?
What is the ratio of regular employees to non-regular employees?
What is the retention of employees and the actual situation of employment?
What is the status of systematization of personnel and labor data?
What is the management status of ID / Pass such as GW?
What is the level of IT literacy?
What is your security policy?
Maintenance / education
Develop various regulations and
information systems and
provide education to employees.
Main points to consider
What is the scale, content, and employment form of your business?
What is the actual state of maintenance and operation of various regulations?
What is your personal information protection management system?
What is your education system?
Use / application
Output my number to the system
target form and formulate
a business transformation plan.
Main points to consider
What is the actual usage and forecast of system forms?
(Company insurance pension system, tax system)
What about personnel, salary and accounting systems?
What is the status of labor and accounting outsourcing?
What is the P / L labor cost composition and shift management status?
What is the maintenance status of JIS Q 15001?
The range of support is wide, so no need to rush!
Easy installation is possible by "obtaining an Individual Number Card"!!
My number system introduction step
We will take steps to respond to each business scope.
It is important to aim for business transformation while minimizing the support for My Number.
Business
reform
process

Understanding the current situation
Strengthening the system
Formulation of transformation plan
STEP. 1

Announcement /
preparation
Contents
Comprehension of description on all levels till top management
Description Announcement to the whole company
PJ formation centered on the main department
Clarification of the scope of influence (including submitted form)
Determining the scope of safety management measures
Consultation with related system vendors
Number acquisition process and planning
effect
Understanding and approval as a company-wide business
Clarification of individual and organizational responsibilities
Clarification of introduction output requirements
Clarification of outline of various regulations
Budget acceptance
range
entreprise * Under the head of general affairs
STEP. 2-1

Acquisition / management
Contents
Number collection and input


Full-time employee / part-time job, part-time job / others (including dependent relatives)

System refurbishment or developmen
(DB conversion& master data linkage)
I / O process arrangements
Data storage and destruction process arrangements
effect
Identity verification (master maintenance)
Number D/B
Operation procedure with linked system & data storage, clarification of disposal process
range
entreprise


* Implemented in business divisions mainly under general affairs and information system
Acquisition of personal
number card
STEP. 2-2

Maintenance /
education
Contents
Preparation and preparation of various regulations and manuals


Organizational regulations, personal regulations, physical environment maintenance regulations, system operation regulations, business operation regulations, etc.

Implementation of educational guidance to each related department
Institutional support for related information systems
effect
Manuals, business follow-ups, regulations, forms based on safety management measures regulations
Business transformation plan to be developed for the introduction of this system
Specific personal information protection regulations
range
General Affairs, Labor, Accounting, Information System Crisis Management Office
STEP. 3

Use / application
Contents
Confirmation of output of system target forms
Operation check of number D / B linkage system
Implementation of failure response simulation
Scrutiny confirmation of safety management measures regulations
Creation of transformation Kaizen plan
effect
Confirmation of difference between initial plan and output
Clarification of remaining issues
Revision of role regulations
Renovation plan for related systems
Transformation Kaizen Plan
range
entreprise 

* PJ development under general affairs manager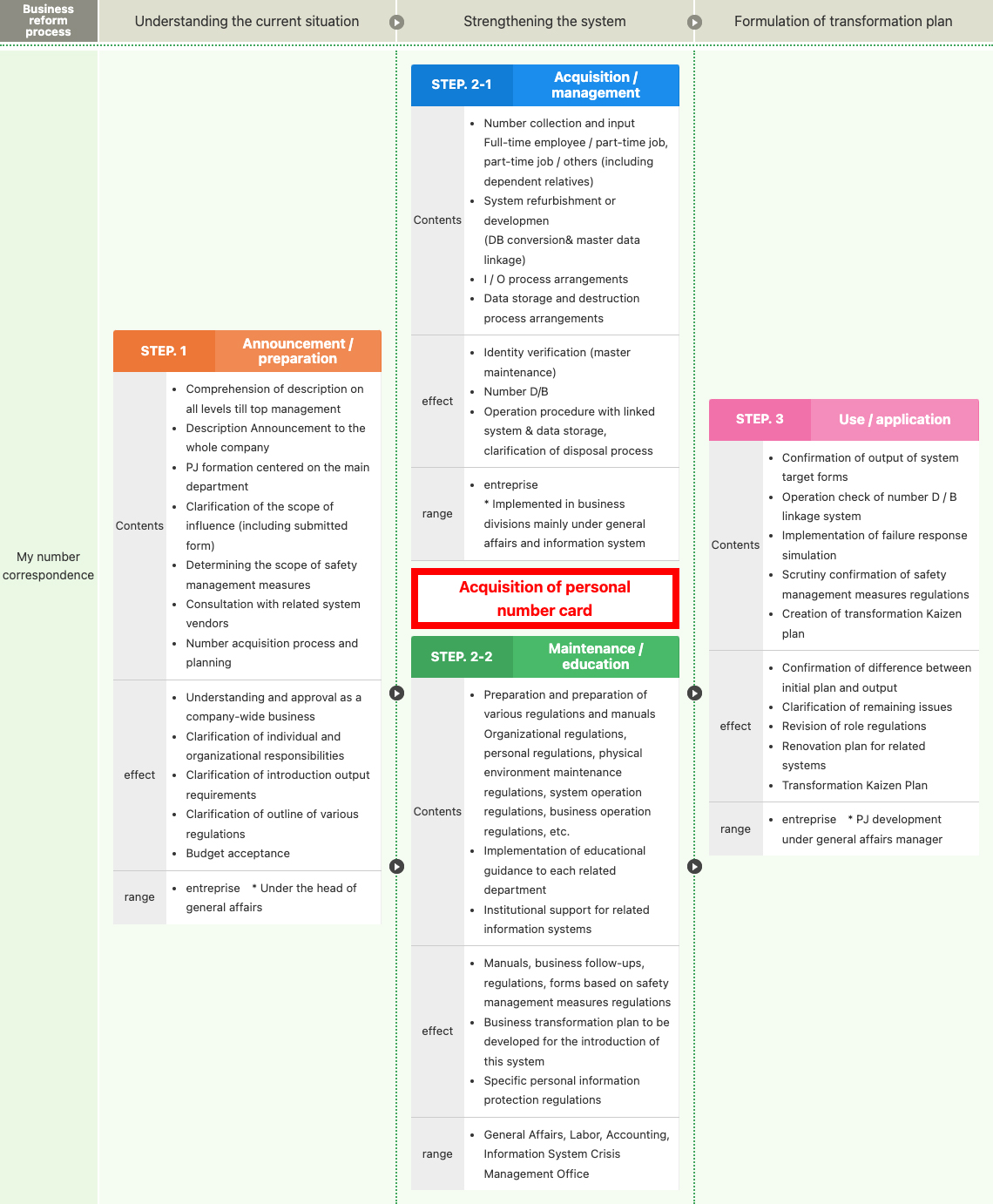 Realization of business transformation
[Contact for inquiries regarding this matter] * We will respond to interviews at any time. Please feel free to contact us.