Succeed in fulfilling your dreams with imagineering!
Companies' environment are located in is influenced by rapid globalization, the rise of emerging markets, changes in customers and their relationship with companies.
It continues to change dramatically due to the speeding of technological innovation.
In the midst of these changes, it is essential to carry out appropriate and swift corporate transformation in order for the company to continue to grow and realize its vision.
Imagineering service intentionally directs corporate transformation (business innovation) by supporting the execution of three transformation phases, "new business creation" and "existing business innovation" based on "business design".
Realize your vision! (dreams and goals).
Business design
From business plan to
business model
In a highly uncertain business environment, the era of formulating strategies with a fixed business plan is over. In future business operations, it is necessary to move toward the realization of the corporate vision while going through the hypothesis verification cycle with the business model and strategy. In business design, we define "the kind of value to create for customers" as a business model based on customer insights, and draw out a strategy to them deliver value.
New business creation
Creation of new measures / businesses / markets
In order for a company to grow continuously, it is becoming more important to not only maintain existing businesses but also to create new ones along with markets. We will grow our company by formulating new measures to develop existing businesses, creating new ones based on the concept of lean startup, and the Blue Ocean Strategy, which aims to create a non-competitive market.
Existing business innovation
Kaizen and in-house production of core business processes
We will realize innovation of core business processes (organization & business & ICT system) from the field perspective so that we can execute our own business model. We will realize short-term (= Agile development) business Kaizen that matches the business model by in-house production of ICT systems, and create an organization that can run the hypothesis verification cycle. In non-core operations, we aim to improve ROI and P / L by cloud computing and outsourcing.
In order to realize these changes, we will build a mechanism that can collect and utilize the data required for hypothesis testing from the front platform and backyard platform. We will continue to run the "hypothesis verification cycle by utilizing data".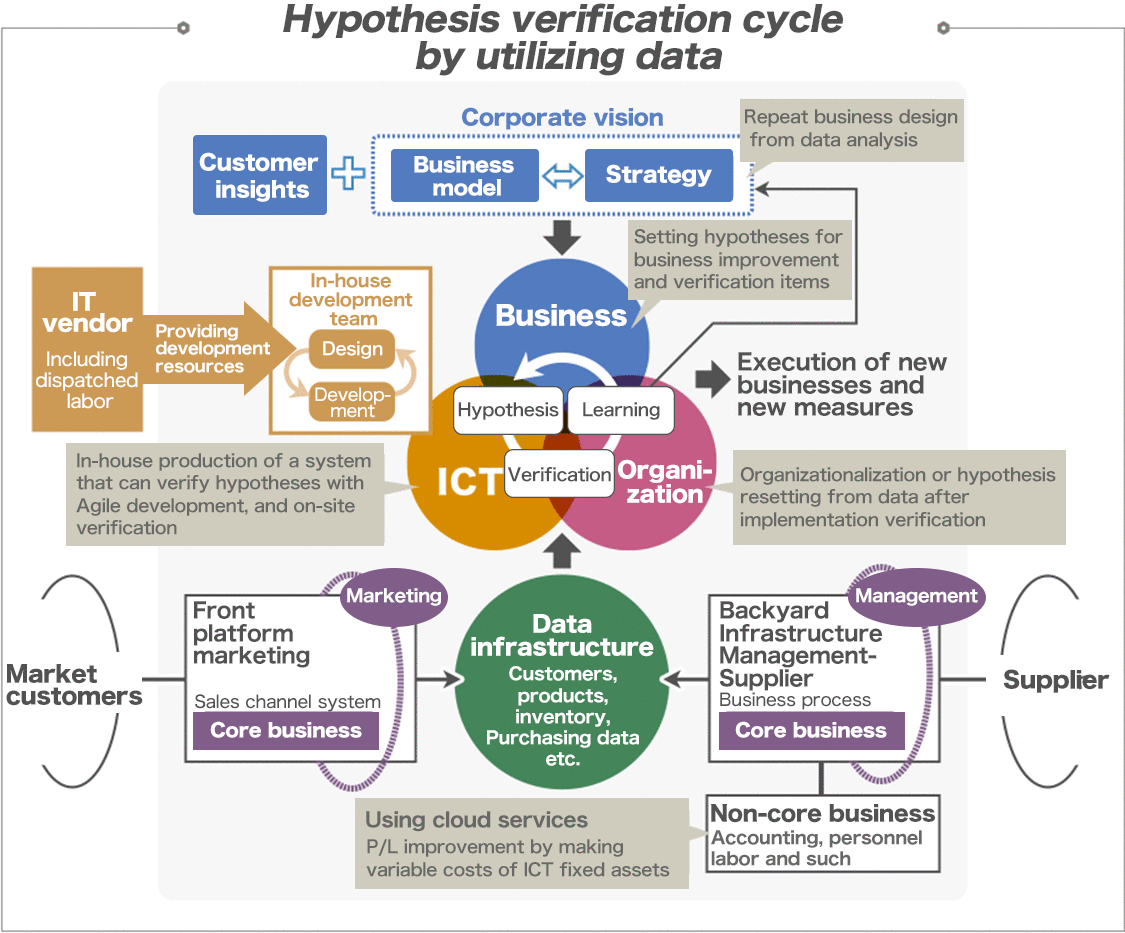 Imagineering service example
Imagineer ring
ROI enhancement service
Business improvement
support service
Click here for details on "My Number" system introduction support service
Security education
support service
[Contact for inquiries regarding this matter] * We will respond to interviews at any time. Please feel free to contact us.